January Veteran of the Month
(Sturgis)
Mr. James Adams
Service years: 1960-1964
Mr. James Adams had joined the Marine Corps at 19 years old. He completed his basic training at San Diego, CA, and continued training at Camp Pendleton. After training, Mr. Adams had the honor of becoming a part of the 35th Motor Transport, an assignment he was excited to receive. His duties included driving large equipment and assisting with artillery operations.
1961 was a big year for Mr. Adams, both in his service life as well as his personal life. It was the year he married his wife, and it was also the year he was fortunate enough to be assigned to the main island of Hawaii for his second assignment in the Army. After some time spent in the Aloha State he was assigned to Barstool, CA to finish out his military service.
After the military, Mr. Adams came back home to Sioux Falls, SD. Over a period of a couple years he and his wife had 6 children. He spent many years continuing to work in the heavy equipment field, first for a company and then for his own business. Afterwards, he started a painting and drywall business, operating for almost 25 years before handing the reins over to his son and retiring in 2002.
Since his retirement, Mr. Adams enjoys hunting and fishing. He has also taken up the hobby of processing game. The thing that is most important to him these days, however, is the time that he spends with his family, which includes his 6 children, 12 grandchildren, and 14 great-grandchildren.
The Meade County Commission and the people of Meade County, would like to recognize and give a heartfelt thanks to Mr. Adams for his service to his country.
Meade County Veteran of the Month - February 2016
Mr. Paul Speed: From Union Center
Service years: 1966-1968
At the age of 20, Mr. Paul Speed was drafted into the Army into the supply career field. He completed basic training at Fort Lewis Washington. Fun fact: Fort Lewis had been closed as a training facility since the end of the Korean War, until it was reopened in 1966 as a personnel transfer and training center for the Vietnam War. From there, Mr. Speed was sent over to Dugway Proving Ground for in Utah for additional training.
His initial orders were to work as a veterinary technician because his reputation as a "farm boy" preceded him. Unfortunately, the position was filled before he arrived, so he found a new position within the hospital working in one of the wards. Eventually, he was transferred to Medical Supply.
Shortly thereafter in June 1967 he was called up for a year-long tour of duty in Vietnam. He worked in communication supply as a clerk under the Unit commander.
Mr. Speed remembers an interesting story from his time in Vietnam: he and another soldier were driving a military jeep over to another unit to see a band perform. They parked the jeep and saw a great show. Afterwards, they went back to where they had parked the jeep… to find that it wasn't there. It wasn't anywhere, in fact. To this day, no one has any idea where that jeep ended up. The two were able to hitch a ride back to their post to answer the question of how- exactly- one loses an entire jeep. The silver lining is that Mr. Speed learned an invaluable lesson that he will never forget. Nor will he ever forget the exact amount of how much a jeep is worth in 1967: $2,580.00.
Mr. Speed has been awarded the:
National Defense Service Medal
Vietnam Campaign Medal
Vietnam Service Medal
Sharpshooter (Rifle M-14)
Good Conduct Medal
In 1968 Mr. Speed was honorably discharged and he came back to South Dakota to the family ranch. He would go on to meet his wife while studying to be an elementary school teacher. The two got married in July 1970. After his schooling, Mr. Speed picked up work managing a ranch from 1972-1981. During that time, his daughter Lana was born and then his son Ryan a few years later. In 1981, the family moved to Union Center where he farmed and ranched until 2005 when he retired.
Even after retirement, he stayed busy working at the Sturgis Livestock, Cammack Supply, running a few cows, working as an auctioneer for fun, and assisting a neighbor in the feed business. Even though his name might not suggest it, Mr. Speed does find time to slow down and enjoy a good cup of coffee in Union Center. He enjoys hunting and fishing, but more than anything, his true love is spending time with his family, and also his 2 grandchildren.
Mr. Thomas Gerber
VOM March 2016
Mr. Thomas Gerber: From Sturgis
Service years: 1945-1946
Mr. Gerber was in his junior year of college with a major in Math and a minor in Industrial Arts when he was drafted into the Army. After being inducted in the Twin Cities in Minnesota, he completed basic training at Fort Lewis. He was in the middle of rifle training when a sergeant approached his group to find out who had experience in typing and Mr Gerber raised his hand so they sent him to San Francisco at Presidio base. Presidio was an Army post that had originally trained soldiers during the Spanish-American War, and during WWII it was a deployment center and training site. During this time Mr Gerber was to type up handwritten notes from psychologists who were performing interrogations and prisoner interviews. Mr. Gerber admits the contents of these notes have scarred him to this day, thinking about the things that were done to prisoners.
Mr. Gerber can recall a story that sticks with him to this day about a person's will to live. There were two US Soldiers on the USS Solomon that had their ship sunk by the Japanese. They were taken onboard a prisoner ship, which ended up being sunk itself on its way to Japan, and they were picked up again by another prisoner ship, where they were subjected to terrible experiences. They were able to survive through all of that, but towards the end one solider told the other that he was tired of fighting and he gave up and died a short time later. The moral of the story and something Mr Gerber follows in his age of 90, is the will to live. That story had a tremendous effect on Mr Gerber and he says is the power from within one's self that you can overcome anything.
After typing notes for a couple months, Mr. Gerber was sent back to basic to finish his training while being on kitchen duty. His training was once again interrupted by his next duty assignment, which was to work as a guard at a POW camp in Sacramento, CA. During his stay at the camp, he was also asked to teach others to double shift in trucks since not many people knew how to drive. He assisted in driving trucks for supply runs. He also worked in the reduction department where he would teach prisoners about democracy and America. When that short assignment was complete, he was back to Fort Lewis and kitchen duty. All in all, he ended up going back and forth 5 different times. He had worked in Montana at a war camp and another camp working with German prisoners. Lastly he was sent to Texas and Fort Lewis where they needed a separation clerk.
After his honorable discharge in 1946, Mr. Gerber was able to go home and finish his college education and earned a B.S. in Education with an emphasis in math. Interestingly, his first teaching job actually came about because a teacher had become pregnant, which disqualified her from teaching due to the rules for women teachers during that time. Mr. Gerber would end up teaching all over the state. During his travels around South Dakota, he ended up meeting his wife. He decided to attend grad school for Math at University of Iowa
Mr Gerber had always had a love for teaching, but as technology advanced, he found an even bigger love for computers, which drove him to work for IBM. Over many years Mr Gerber had worked in Milwaukee, New York, Chicago, all over South Dakota and Minnesota, Los Angeles and Arkansas. Mr. Gerber ended up having 7 children, 9 grandchildren and 5 great-grandchildren. Since retirement, he enjoys computers still, writing fiction, gardening, and- oddly enough- shoveling snow.
Meade County Veteran of the Month - April 2016: Mr. Norman Fitzpatrick
Meade County Veteran of the Month: Mr. Norman Fitzpatrick
Service years: 1966-1969
Raised with a strong sense of service and a desire to give back to his country, Mr. Fitzpatrick enlisted in the Navy in 1966 as a heavy equipment mechanic. He had two years of college to assist him in this endeavor. He was first sent to San Diego for basic training before traveling to Golf Port Mississippi, Camp Shelby, and Camp Lejune for further training to prepare him for Vietnam.
Mr Fitzpatrick was selected to be part of the Navy Seabees. The Seabees were teams (officially called naval construction units) that had arrived again in South Vietnam in January 1963, first in support of U. S. Army Special Forces and later in support of
U. S. Agency for International Development. They worked to construct small, fortified camps for Army Special Forces and to assist Vietnamese civilians living in rural areas. Special Forces personnel worked in remote sections, training and advising Civilian Irregular Defense Groups in guerrilla tactics; thus, they needed stronger base camps that could withstand Viet Cong ground and mortar attacks. Mr Fitzpatrick was part of this team in Vietnam for 9 months the first time, then he was allowed to return home for 3 months before being sent back again for 10 months.
After the last tour in Vietnam, he was given orders to be stationed at Naval Air Station Keflavik in northern Iceland where they were quite a few miles from anything. He was part of the transportation crews, ensuring things were running smoothly. After a year tour the next assignment they offered to Mr Fitzpatrick was Antartica. After living in the extremes of Iceland, Antartica did not seem very appealing. Instead, he was able to go back to Philadelphia, PA to honorably separate from the military. Mr Fitzpatrick was then able to come home to South Dakota.
Mr. Fitzpatrick has been awarded the:
National Defense Service Medal
Fleet Marine Combat Operations Insignia
Vietnam Campaign Medal
Vietnam Service Medal
Navy unit Commendation Ribbon
After his separation, Mr. Fitzpatrick spent some time working on the Sturgis PD, as well as the construction field. While hauling gravel, he found his niche in trucking, where he would end up working for 31 years- traveling all around the country before finally retiring. During that time, he married his wife, Virginia, and they had three children, who gave them three grandchildren. Mr. Fitzpatrick still remains very active in the local DAV, VFW, VBA, & American Legion.
May 2016 - Veteran of the Month: Mr. Roger Peterson
May 2016 - Veteran of the Month
Mr. Roger Peterson
Service years: 1956-1993
Since a very young age the military lifestyle and brotherhood was imprinted into Roger. He was raised around the Army National Guard and lived at Fort Meade where his father worked for the Veterans Administration. His father was instrumental in getting the VA started here. Roger was given an award for all of the volunteer time he had given to the VA.
After graduating Sturgis High School in 1955 he worked for the oil companies where he was able to save money for college. In 1956 he attended SD School of Mines in Rapid City and joined the South Dakota Army National Guard. Roger held varied civilian careers to include the Sturgis City Parks Department and managing the Chamber of Commerce.
In 1965 Roger married his wife and in 1972 he joined the Army National Guard full time active duty for two years.
During his younger years Roger was the catcher for the Sturgis Titans and helped lead them to victory in the Northern Black Hills League Championship. He also played for an army traveling team.
Following active duty, he continued his full time service with the SD National Guard. During his career he worked as an equipment mechanic, motor sergeant, construction surveyor, instructor and launcher control repair for Nike Missiles and Supply.

Mr. Peterson has been awarded the:
SD Distinguished Service Award
National Defense Service Medal
South Dakota Performance Ribbon
Distinguished Service award x5
Army Achievement Award x5
Performance Ribbon x4
Armed Forces Reserve Medal with device
South Dakota Unit Citation Award (Reckon Trophy)
South Dakota Desert Storm Ribbon
SDRECM
One of the funny stories he can remember during his military service was during one inspection process while he was an instructor. There were different sections within the school house, mechanic section and launcher section; however they would work on the same missiles. During this inspection the missiles were in the launch position on a hydraulic boom that holds them. A Colonel came through and wanted to bring the missiles into the down position for some reason. Well murphy law went into effect and a hose broke and down went one of the missiles, right onto its nose, causing the nose section to break off. After some individuals freaking out, calling Mr. Peterson to their office and having him in the attention position for the failure of the hose and the nose coming off. They threatened him with having to pay for damages which were over 100k. Mr. Peterson stated that he believed he was going to be spending the rest of his life in the Army. Over time, they had eventually come to realize it wasn't his fault. It was the other section and Mr. Peterson was then let off the hook.
In 1993 he retired so he could be home to take care of his wife until 2003. He has two step daughters, 5 grand children, 21 or maybe 22 great grand children and maybe 3 or 4 great great grand children.
Since retirement Roger enjoys hunting, fishing, and one of his hobbies includes meat processing. He also enjoys being outside doing yard work and being active in the local American Legion.
June 2016 - Veteran of the Month: Mr. Eldon Herring
VOM June 2016
Mr. Eldon Herring From Sturgis
Service years: 1944-1946
Mr Herring was raised in the Phillip area and graduated high school in Piedmont in 1934. After high school he had worked on some local ranches and decided he wanted to become a teacher. He had gotten his certificate and began teaching in Custer County at a country school. During his time teaching WWII had started and he felt a duty to his country and he went and enlisted at Fort Meade. His first career field was a radio maintenance.
The first school was in Illinois. After completing school Mr Herring came back to Ellsworth AFB which was still the Army Air Corp.
Mr Herring was part of the crew on the B17s. During that time Mr Herring made rank of technical sergeant and then earned rank of first lieutenant. He also trained flight crews on the B17. He served there for almost 4 years. He was awarded the American Campaign Medal and the Victory Medal. After separating he went back to school for a degree in agriculture and worked as a soil scientist in Huron. After a few years he moved back to Sturgis where he was a soil scientist for about 12 years for the Soil Conservation Service.
Mr Herring had an opportunity to work at fort Meade as a therapist in agriculture where he would assist other veterans in the green house. It was a very rewarding job. Mr herring retired in 1974. Since retirement Mr Herring keeps busy on his hobby ranch outside of deadwood running cows, reading, watching the news, yard work, and also being a caregiver for his wife Mary. They have 3 children, 14 grandchildren, and 1 great grand child.
July - Veteran of the Month: Mr. Keith Marshall
Born on Cheyenne Agency, SD
• Boarding school Cheyenne/Eagle Butte since they lived so far away
• Participated in Football & Track
• Graduated high school in 1964
• Sent to Vietnam in Dec 1967 with 101st Airborne
• Participated in many search and destroy, and combat assault missions. Received first Bronze Star 5 months later
• Moved around Vietnam on missions and sent over to the 173 Airborne, assisting in aid for US soldiers and locals, later receiving his 2nd Bronze Star
• Sent home Dec 1969 and went through a long firefight day before going home, awarded Silver Star due to selfless actions
• After arriving back in SD, he worked for a short time as a medic for Rapid City
• Worked in oil fields in WY before going to welding school in Denver, CO
• 4 children, 6 grandchildren
• Worked in NY before moving to Sturgis in 2001.
• Hobbies include- dancing, church, family & friends, and very active member in Vietnam Veterans of America
August - Veteran of the Month: Mr. John Price
Service years: 1965-1969
Mr Price was raised near Pine Ridge, SD. His mother owned a cafe. When he was 13 they had moved to Rapid City. He had gotten into some trouble as a teenager and decided to straighten everything up and go into the military. The agreement with is mother was no Army or Marines. In 1965 Mr Price had enlisted in the US Navy in the Swift Coast Division. He had gone through his in processing in Denver, CO and sent to San Diego for basic training. His job on the swift boats during Vietnam was a radioman. He would handle the electronics and ensure operational readiness, troubleshoot any issues, train along with the rest of the crew members, and support the officer in charge. He would also work with the gunner mate and coordinate operations with off craft gunfire spotters.
In February of 1968 Mr Price received orders to Vietnam. They would parol the rivers and the coastlines. They had to interdict combat. Some of their jobs were search and destroy missions, transport Navy seals, and also provide gun fire support. After his time in Vietnam he had no urge to reenlist with the military due to the horrors he had witnessed.
Mr. Price has been awarded the:
Vietnam Service Medal
Bronze Star with device
National Defense Service Medal
Republic of Vietnam Campaign Medal
Meritorious Unit Commendation
He decided to work for the Rapid City police department in 1969 until 1974. Later he had moved to Rosebud Reservation to work for tribal police then over to Pine Ridge Tribal Police. During that time he had come a criminal investigator and went through FBI academy and attempted to get as much education as he could. He was also a deputy in Oglala Lakota County in July 1985 where he had run for a county commissioner and won. He resigned a year later due to his fathers terminal illness. After his father passed he worked in law enforcement in the VA until 2004 when he retired as assistant chief.
Mr Price's hobbies include spending time with his wife, watching tv, and especially sports. He also has 8 children and he says he's going out on a limb and say 10 or 11 grandchildren. Mr Price is very active in the local VFW, American Legion, DAV, Vietnam Vets of America, and Swift boat Sailors. Most of that fills his schedule and keeps him busy.
The people of Meade Countywould like to recognize and give a heartfelt thanks to Mr. John Pricefor his service to his country during the Vietnam War.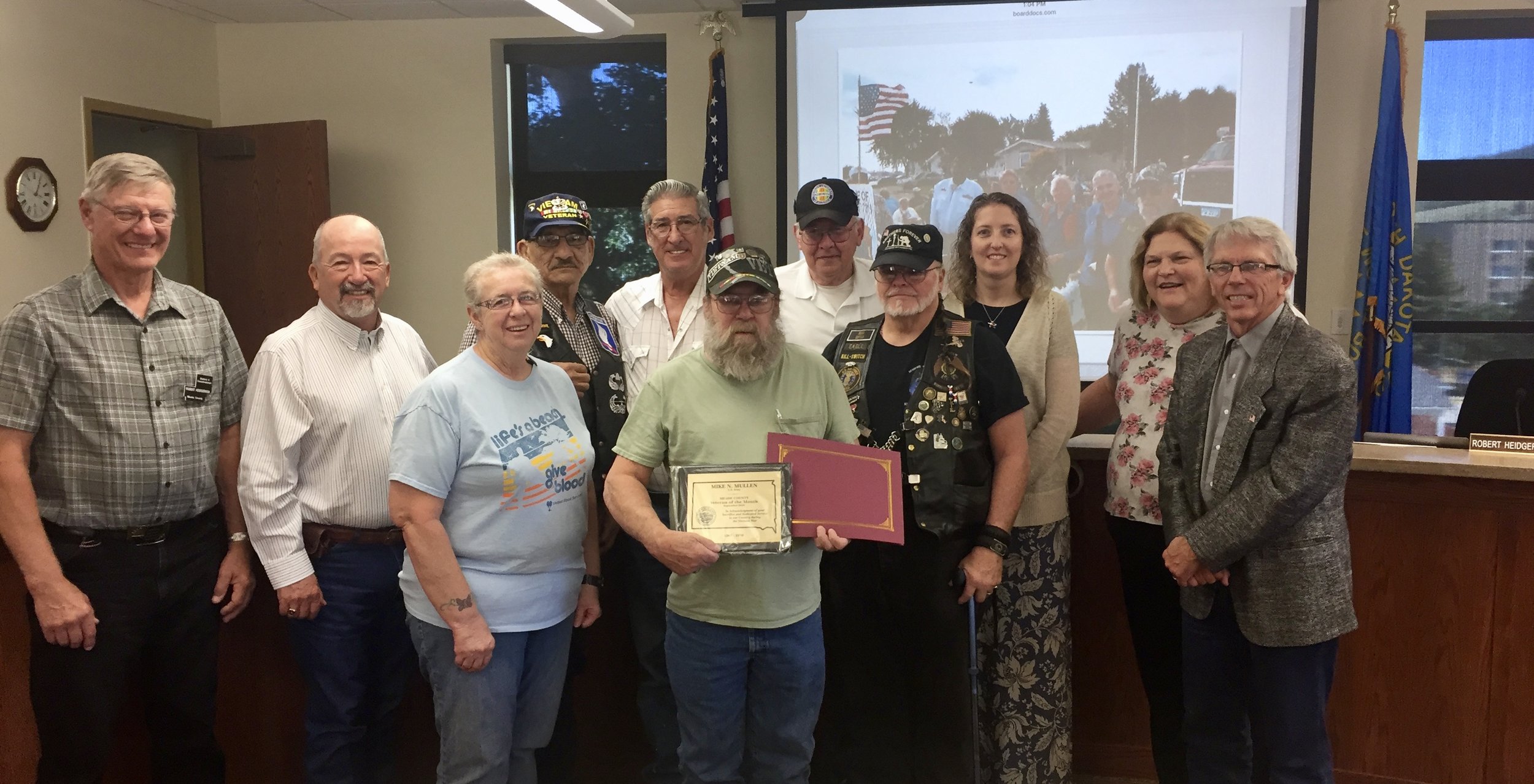 September - Veteran of the Month: Mr. Mike Mullen
Mr. Mike Mullen: From Blackhawk/Piedmont
Service years: 1967-1970
Mr. Price has been awarded the:
Vietnam Service Medal
National Defense Service Medal
Vietnam Campaign Medal
Army Commendation Medal
Good Conduct Medal
E5 and Battalion Supply Sergeant
Deployed to Vietnam in 1969
Honorably discharged in 1970
After 31 years Mr Mullen retired from Fort Meade at the boiler plant
Active in local veteran organizations and also VFW State Commander
Married to Nancy all together they have 7 children, 15 grandchildren and 2 great grandchildren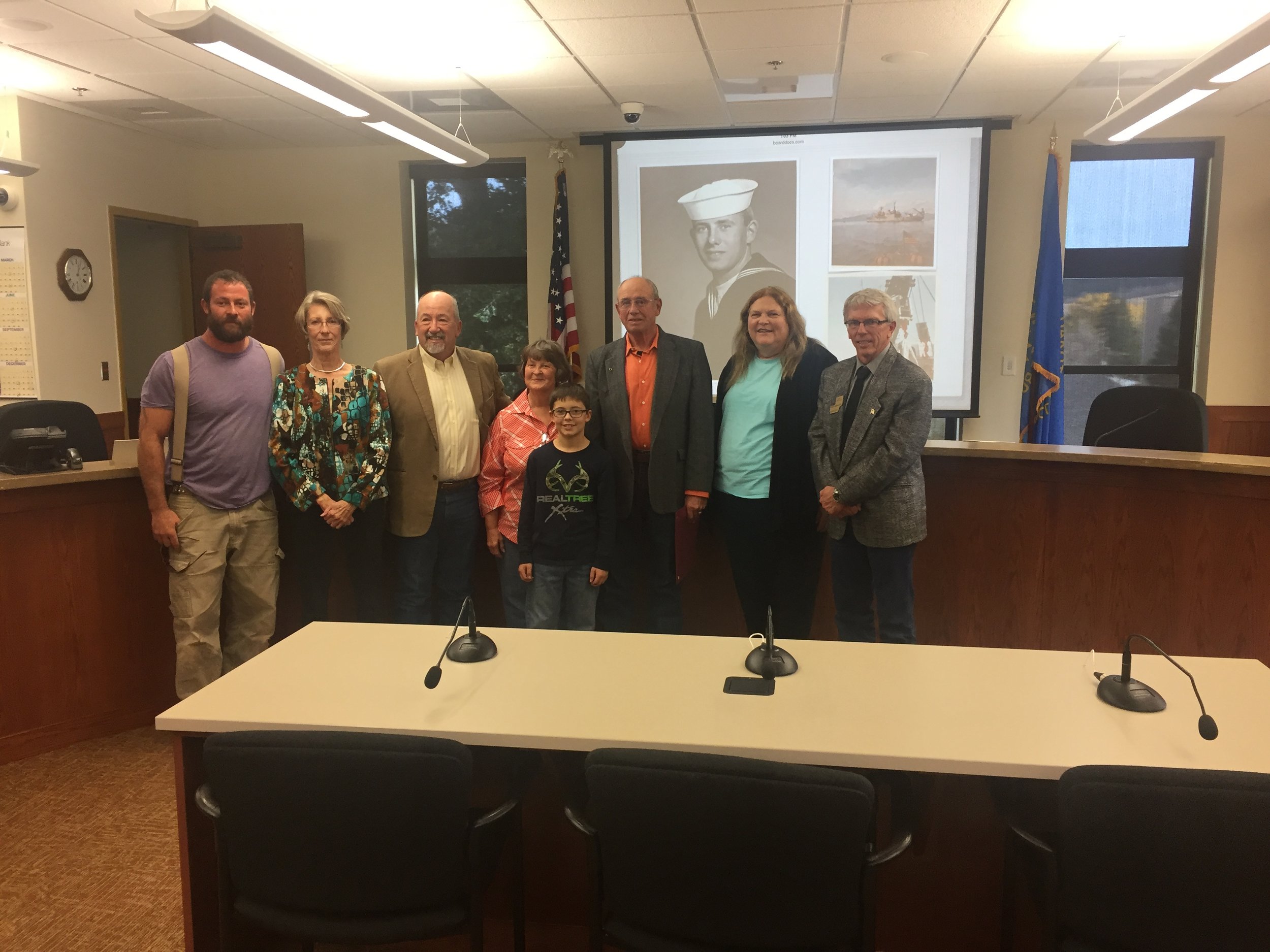 October - Veteran of the Month: Mr Gary Patterson
Mr. Gary Patterson joined under Navy Buddy System in 1963
Assigned to USS Currituck (A-7)
Career Field of Plane Capt
Honorable Discharge in 1966
Enjoys time with famiy, hunting, and fishing
December Veteran of the Month: Mr. Darrel Barry
Mr. Darrel Barry: Union Center, SD
Marine Service years: 1951-1954
Mr. Barry's grandfather homesteaded near Union Center, SD. Mr. Barry attended rural schools and graduated from New Underwood High School with a class of sixteen - to include 8 boys and 8 girls.
After high school, he worked for Gossard Dirt Work running large equipment. Knowing the draft notice was coming; he enlisted in the Marines. While at Boot Camp, the Army attempted to draft him - though all too late.
He was sent to Marine Corps Logistics Base Barstow in California. Back then, they had to take a train to their training sites. After Boot Camp, he went to 29 Palms to continue with his heavy equipment experience and training where he was part of building the rifle ranges. Interestingly enough; years later his son was able to train on these same ranges.
Mr. Barry was eventually ship bound for Japan and Korea. During part of this time, he worked on a crane slinging mail. This duty had previously caused issues for others assigned this task, but not for him. Other duty assignments included being a prison guard at a high security prison.
Following military service, he returned back to the family ranch. During this time, he unknowingly met his future bride to be. He loved apple pie and she was the one that keep making them. Years later while Mr. Barry was working at the Sturgis Sale Barn, they reconnected and married in 1957.
Eventually, he moved the family home to continue to work the family ranch. He too worked for Western Cattle Company, various ranches, drove truck, worked at the county highway shop and was a brand inspector. At the age of 84 he was finally told to retire.
Mr. Barry and Viola have 6 children, 15 grandchildren, and 4 great grand children. Mr. Barry's hobbies and loves include horses, trail rides, rodeo, and most important is spending time with his family.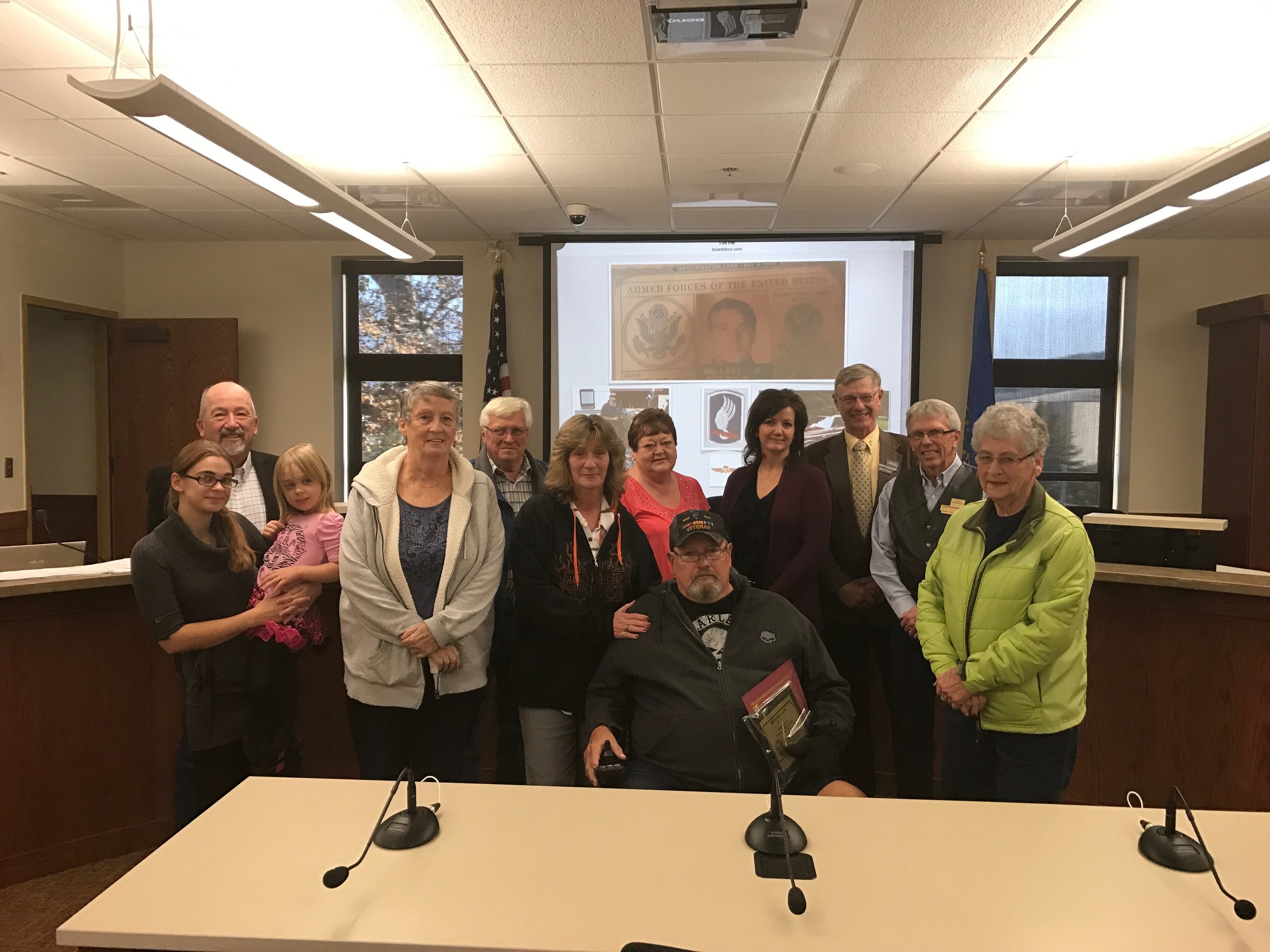 November - Veteran of the Month: Mr. Ben Wallace
Entered 1965 into US Army
Volunteered to be part of the Airborne
Deployed to Vietnam and completed 4 tours / 49 months of service
During his 45 days of leave - he toured much of the world
After getting malaria he separated from the military
Attended college and graduated with a bachelors degree in engineering
Worked in multiple California cities and retired after 35 years
Following 11 different visits to the Sturgis Rally; he now calls Sturgis home
1
2
3
4
5
6
7
8
9
10
11
12