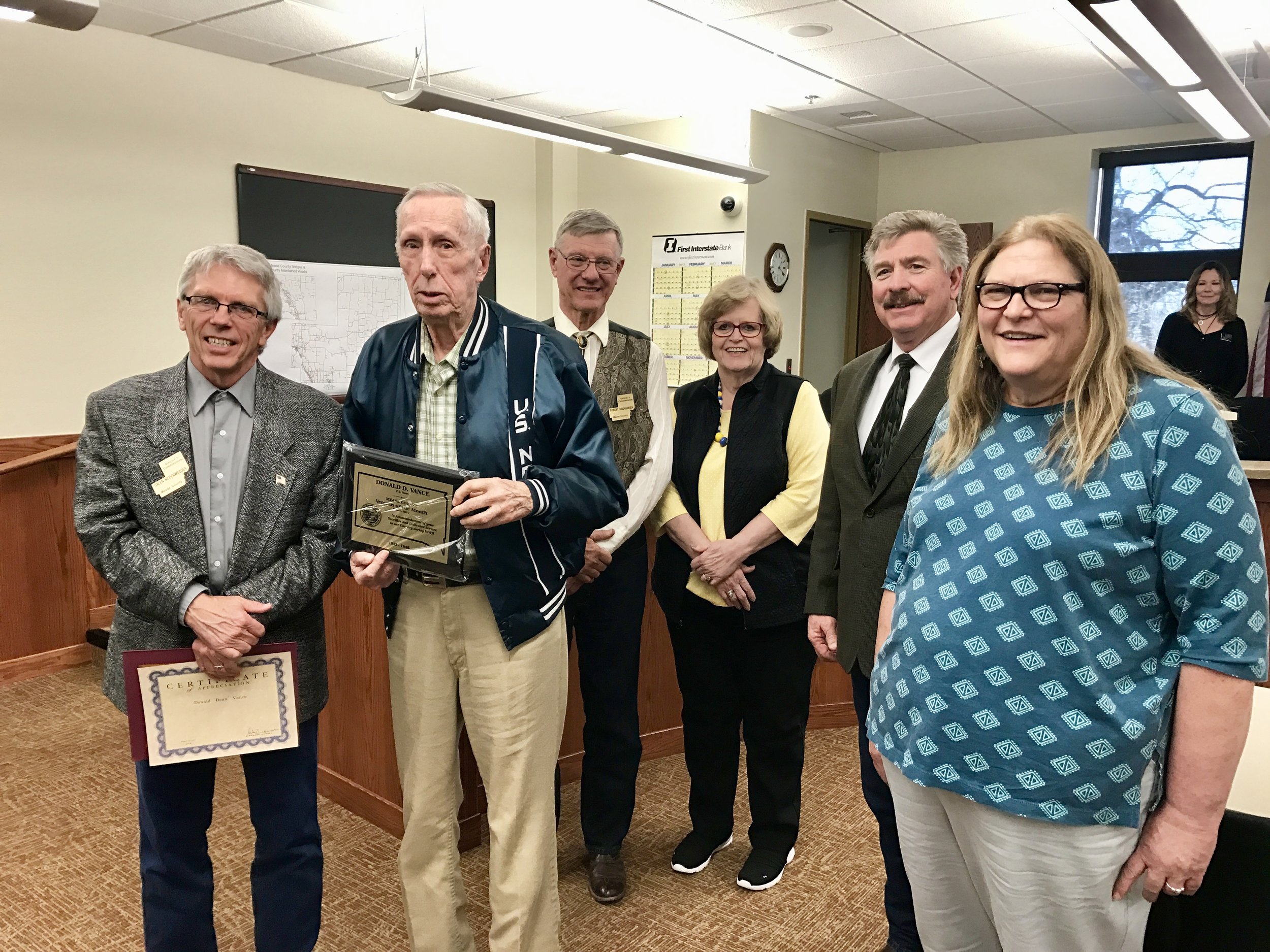 Born and raised in Dupree, SD
Joined the Navy in 1942 (17 years old)
Senior Signalman on USS Commencement Bay
Honorably discharged in 1945
Raised 3 children
Served as Vice Commander & Commander for the VFW
Volunteer at Fort Meade for 9 years
Drove the DAV for 6 years before retiring
In his words.... Written at the age of 85
Before my time expires, I am 85 years old and I would like to pass this story on for whatever interest it may have. I am the first South Dakotan to know that Japan had surrendered. I was the Senior Signalman on the escort aircraft carrier USS commencement Bay (CVE105) on the way back to the states from Hawaii on that day. Usually the Captain gets the messages first. Off the coast of Washington State, he and I saw signal flags at the same time. I used binoculars to read the message and called off the flags to a "striker" (not a full signalman yet) and then used the code book to learn the message. It was "the enemy has surrendered."
Remembering the false alarm on the Germans, I decided to make sure of this message. I then used a large telescope to read it again. It all came out the same.
I went to the captain and gave him the message. He flipped on the intercom to the radio shack below to confirm. They replied, "No sir, captain". At that point, I felt like jumping into the ocean. The radioman came back on and said, "there is a message coming in now, Captain." They later confirmed my message.
I know the Captain and the persons at the shore station were not South Dakotans, so I was the first to know because the radiomen didn't know before me.
I am a Life member of the VFW, served as Sr. Vice Commander and as Commander of the Casa Grande, AZ VFW. I was also the Senior Vice Commander and other officer positions of the Sturgis, South Dakota VFW. I also was a volunteer at the Fort Meade for nine years and drove the DAV hospital van for the northern Black Hills to Fort Meade for three years and drove the DAV van in Arizona for three years from Casa Grande to both Tucson and Phoenix Medical Centers.
You probably don't need all this information, but I wanted you to know about the Japan surrender and to remind VFW member that we need volunteers, and that those who do volunteer provide a great service to all veterans and it also brings a good feeling to one's self.